Description
This Universal Quick Release 1/4-20 Adapter can be used with just about anything that has a 1/4-20 screw for mounting. This means it works with just about any tripod as well as our mounts.
It's basically a time saver. Some people even get extra bottom pieces so they can easily share a monitor across multiple mounting locations. You screw the top piece to your monitor and screw the bottom piece to your mount or tripod. Then the top piece get pushed int into the bottom piece and locks in place.
To remove you press in the 2 side buttons at the same time.  There is even a lock feature where you twist both side buttons to make sure there are no accidental releases.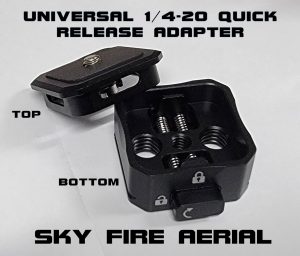 The bottom piece has a 1/4-20 screw hole in the middle and 3/8 screw holes on the side which means you could also screw it to a mounting device that has a 3/8 screw sticking up.